Taylor's McCoy's Premier League Joy
PHIL TAYLOR defied a spirited fightback from Simon Whitlock to win his sixth McCoy's Premier League Darts title with a 10-7 win at The O2 in London — with the Australian's earlier nine-darter in the semis not enough to carry him to glory.
Taylor, who had finished eight points clear at the top of the league table following the 14 weekly rounds and earlier defeated James Wade 8-6 in the semis, looked set to romp to the £150,000 title when he moved into a 6-1 and 7-2 lead in the
final.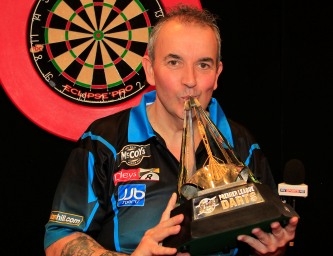 Whitlock, though, hit back brilliantly to level at seven-all by taking five successive legs to threaten an incredible comeback win.
The Australian — who landed a nine-darter in his 8-6 semi-final win over Andy Hamilton earlier in the night — crucially missed one dart to lead Taylor 8-7, as the Stoke great recovered to win the leg and the next two to claim victory.
«It feels fantastic to be the McCoy's Premier League champion again,» said Taylor, who had lost in the semi-finals last year to Adrian Lewis.
«It was a massive night for all four of us in the semi-finals and in many ways it was a strange final.
»The semi-final took a lot of out me, because for some reason I was nervous and it was a real battle against James. Simon had put in a huge effort too in his game and maybe that showed in the final.
«Simon came back brilliantly but I think that used up a lot of his energy, and even when he got level I knew that I had the throw and just had to keep myself steady, and thankfully I came through.»
Taylor had hit averages of 117.35 — a Premier League record — and 116 during the league season, but dipped below 100 in both games in the Play-Offs.
«I'm disappointed with my performances, even though I'm delighted to win,» he added. «I set myself some high standards this year and I want to play consistently at that level.
»I'll have a couple of weeks now to relax and prepare for the UK Open at the start of June, and winning back that title's my next goal."
Despite the efforts of his semi-final, and a cameo appearance to sing along to the performance of Chas Hodges & The Premier League Boys' charity single 'Got My Ticket For The Darts' on stage before the final, Taylor made a superb start to the decider.
He punished four missed doubles from Whitlock to win the opening leg on double four before posting back-to-back 14-darters in moving 3-0 up.
Whitlock took out 96 on double eight to get off the mark in the fourth, but Taylor hit a 180 before taking out 81 on tops to win the next for a 4-1 cushion.
Taylor then punished two misses from Whitlock to win the sixth on the bullseye and took out 109 to seal the next for a 6-1 advantage.
Whitlock set up a double 12 finish with a 174 score as he took leg eight, but despite a 180 from the Australian in the next it was Taylor who landed double eight for a 7-2 lead.
Misses at double top in the next two allowed Whitlock to step in and pull back to 7-4, before the Australian landed a 180 and finished 80 on double ten to win his fifth leg.
He then broke Taylor's throw for a second time as the world number one missed three darts to halt Whitlock's charge, before the 2010 World Championship finalist powered in a maximum and a 120 finish to incredibly level the match.
Whitlock also gave himself a chance to move ahead in leg 15, but missed double 16 for a 149 checkout — ironically the finish Taylor took out against Wade in the semis to break a six-all deadlock — as the Stoke great stepped in on tops.
Taylor then opened the next leg with a 171 and took out 96 to lead 9-7 before adding a 180 and taking out 73 to reclaim the trophy.
«I did well to fight back and get it back to seven-all, but I had one chance to go in front and missed, and before I knew it, it was all over,» said Whitlock.
«It's very tough to play two games like that in one night, especially when the semi-final was so tight. Phil struggled as well as he had a very hard semi-final.
»It's been a fantastic McCoy's Premier League though and I'm really proud to have reached the final. I think the two best players reached the final.
«It means a lot to be in the final against Phil. I tried my best but I wasn't good enough on the day, but I'm over the moon with how the season's gone.
»I'll never forget the nine-darter. I've thrown a couple of nine-darters before in front of big crowds but not in front of 10,000 fans, so it was special."
Whitlock's nine-darter came in the second leg of his semi-final with Premier League newcomer Hamilton, who had finished third in his debut season and led the Australian 4-1 — with the nine-darter being the only leg he took in the opening five.
He pulled back to 5-4 before Hamilton posted a 110 checkout to move 6-4 up — but Whitlock took the next four in thrilling fashion to earn his place in the final.
«It's been a great journey and I've enjoyed every single minute of this Premier League,» said Hamilton. «I've fought again tonight but Simon fought back and showed true resilience, and it was a great game to have a nine-darter against me.
»I can't complain. I've had a great match and Simon was a worthy winner — it could have gone my way but it didn't, and I feel privileged to have played in such a great arena alongside some great players, and hopefully I'll be back in the Premier League next year."
Taylor was also pushed all the way by 2009 champion Wade in their last-four contest, with the left-hander leading 4-2 at one stage.
Taylor moved 6-4 up before Wade levelled, but the game turned on a stunning 149 checkout by the world number one, who then finished double top to seal his place in the final.
Teenager James Hubbard was the night's other big winner, as he was crowned as the PDC Unicorn World Youth Champion following a 6-3 win over Michael van Gerwen.
The 19-year-old from Norfolk showed no nerves in a brilliant opening as he hit an 11-dart finish and led 3-0 before holding off the Dutchman's fightback to claim the £10,000 first prize.
«It feels amazing,» he said. «When you start playing darts, this is what you dream of, and to play in front of 10,000 people is a dream come true for me, and to come out as World Champion is amazing.
»I was nervous before the game but Simon Whitlock was brilliant and gave me lots of advice, and the start I made on stage was terrific and settled me down.
«I didn't think I'd win it to be honest because Michael's so experienced and such a brilliant player. You always believe in yourself, but when I hit that double top it was the most amazing feeling of my life.»
The night also featured a special performance of the charity single 'Got My Ticket For The Darts', as Chas Hodges & The Premier League Boys were joined on stage by Taylor, Wade, Hamilton, Gary Anderson, Raymond van Barneveld, Adrian Lewis, Kevin Painter and PDC Chairman.
The song has been released to raise money for Haven House Children's Hospice, and is available for 99p from iTunes.